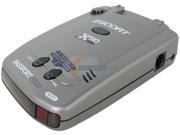 A radar detector is a great last line of defense in my opinion. I'm not advocating driving recklessly, but when you're on a lonely road with no other cars in sight, you're not going to drive the speed limit. The Escost 8500 X50 has been called the best radar detector for the money and with this NewEgg coupon, it really is!
ESCORT 8500 X50 RED LASER RADAR DETECTOR SALE
Use coupon code:
EMCKFJH32
for $80 off. Expires 04/18/2011.